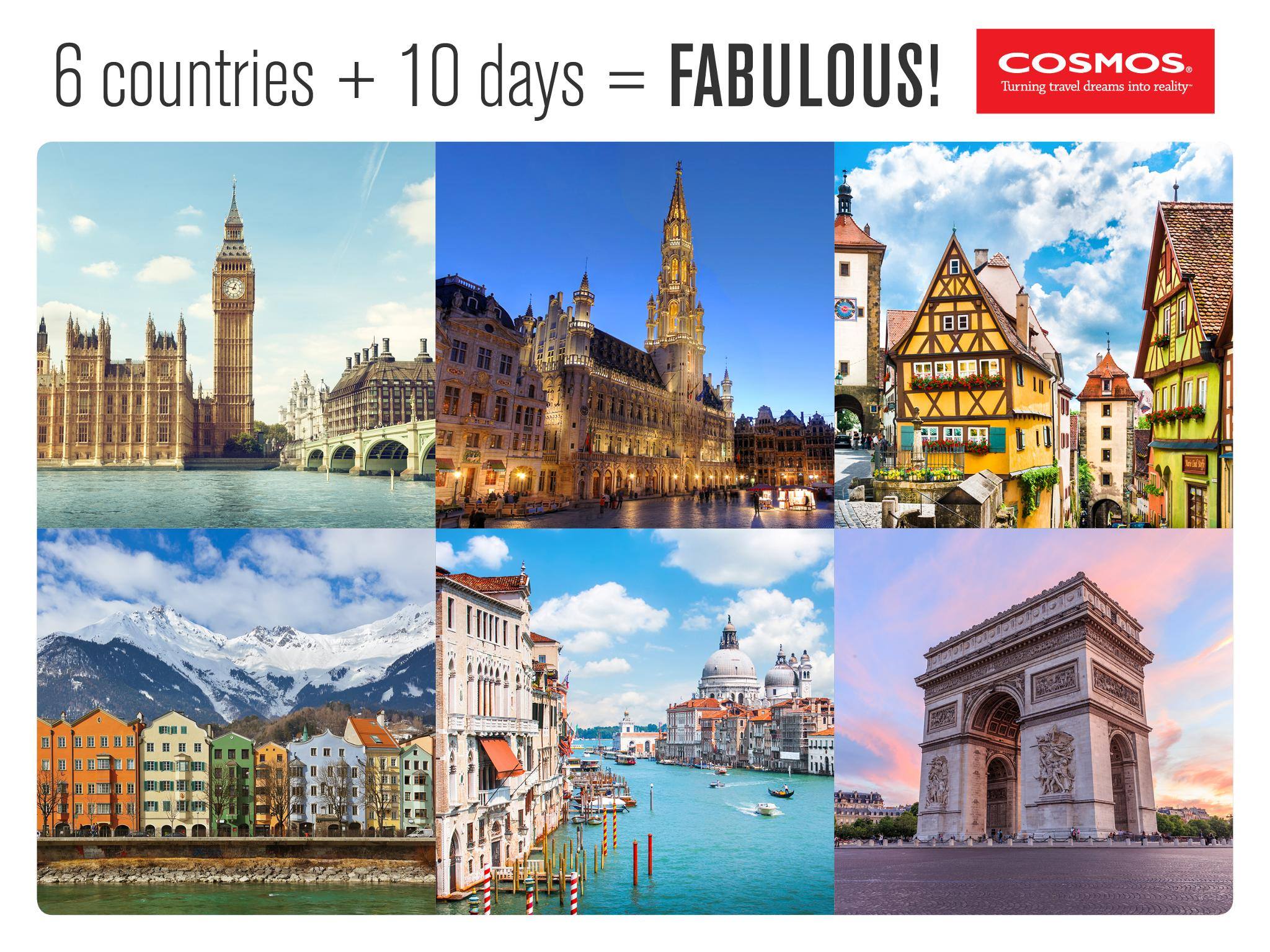 The 2018 Cosmos Europe Vacation
When researching your dream 2018 vacation, the first step is to choose your destination. With Cosmos, 2018 brings three destinations:
Europe
United States & Canada, and...
South America
Even though it may seem easy and cheap to book all your hotels, transportation, and sightseeing online, it may not be as easy & cheap as you might think.
Cosmos can make any trip a reality by including all the necessary components and most importantly eliminate all the planning, which frees you up for all the experiences a 2018 Cosmos Vacation has in store for you!
Cosmos has been in the business of making travel dreams come true for over 50 years. All that time has served for great experience in making all the research you could ever need. Best of all, the rapport Cosmos has built with hoteliers, transportation companies, and sightseeing vendors has allowed for the low price you see in their brochures. Booking flights with your 2018 Cosmos Vacation garners you with FREE roundtrip airport transfers, which has a value of up to 90 Euros, which is the cost of cab fare from major European airports to your 2018 Cosmos Vacation Hotel. Even if you decided to utilize miles or points to obtain your airline tickets, the optional transfer cost is $50.00 USD, which is still a savings, especially since you're paying in USD.
A 12-day car rental can run upwards of $1,100.00 and that doesn't even include your fuel & tolls. Here in the United States we complain of gas being over $4 a gallon. In Italy, you can rarely find fuel for less than 16 euros per liter > liter, which is probably why you see so many businessmen in three piece suits on Vespas and smart cars. With a Cosmos Vacation you receive a transportation services on a deluxe motor-coach, a full time driver, and full time tour director, which allows you to sit back, relax and take in all the sites as you make your way from one beautiful city, town, or village to the next!
In addition to a driver and tour director, a Cosmos Vacation will also include meals and sightseeing. There's no better way than to start your day off with breakfast (warm or cold). Cosmos includes breakfast daily and some dinners in all fully escorted itineraries.
A full time tour director and local guides will bring any destination to life with stories of history and lore. The wrong tour director or tour guide can make or break a tour, which is why Cosmos takes time to train all their tour directors regardless of the years of guiding tours they have under their belt.
Free or plenty of leisure time is very important in any vacation; it provides free time to mingle and meet new people. Cosmos will also provide you with plenty of leisure time to do all of that.
COMPARISON
Based on the information provided above, you can clearly see that in addition to there being a difference in price, dinner is not included on the "On Your Own" list. With a 12-day tour, there would be at least two (2) three (3) course dinners. Furthermore, the list does not include a full time tour director who is at your beck & call, driver, or local expert guides joining the group. Lastly, what about your time? How much is that worth?

In the end, you are saving more than the comparison shows. Another point I'd like to bring up is the single supplement we have to put up when traveling on our own... With Cosmos, we have an option available that won't cost us a thing. Cosmos provides the "Single Share" option, which allows us to room with another single traveler of the same gender and smoking preferences. The best part of this option is that if Cosmos is unable to find someone, we keep the room at no extra charge!
Now that you've seen our comparison, what would be the better choice for you? On your own with a map, or with Cosmos sitting back and enjoying the experiential?
As a travel professional, it's important for me to point out that as good as Cosmos is in terms of price & service, I would suggest this product to the seasoned traveler who has been to the destination and is looking for something moderate in price. Cosmos' hotels are located a bit outside of the city center and prime sightseeing excursions such as to the Colosseum and Vatican in Rome are optional and not included in the price.
For the first time traveler, I would recommend the next tier up, which would be Globus. Globus is a bit more expensive, mainly due to all the amenities included in the price, such as centrally located hotels and most of the sightseeing you plan on doing that are only available as an option with Cosmos.
At the end of the day, it's all about being qualified appropriately by your travel consultant in order for him or her to properly match you to your perfect dream vacation.
What are your tastes in hotels?
Do you prefer centrally located?
Is this your first time to said destination?
What's your max budget? And so on...
These questions and a few others will assist us in finding the perfect vacation for you.
We hope you've enjoyed our post and that you send us any points we may have missed.